Polestar Computers
Monday - Friday 9am - 6pm
Saturday 9am - 12pm
Phone (707) 279-1228
Fax (707) 279-1224
Company Info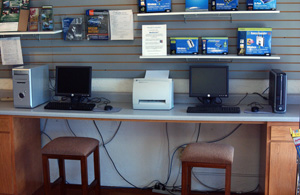 Polestar Computers has been serving the Lake County area reliably and professionally since 1995. Our trained technicians have over 40 years of experience in the industry.
Labor rates
Minimum charge $40.00
Shop rate $65.00/hour
Field rate $80.00/hour. Minimum 1 hour point-to-point.
Training in shop $45.00/hour
Training in field $60.00/hour. Minimum 1 hour point-to-point.
Payment is required at the time of service, unless prior credit arrangements have been established. We accept Visa, Discover, and MasterCard.
Return Policy
Products come with a warranty provided by the manufacturer. Opened hardware or software is not returnable unless defective. Returns on defective items must be made within 15 days of purchase. Replacements will be made with stock on hand or as soon as the item is made available by the supplier. After 15 days from purchase all returns need to go through the manufacturer. Polestar will be happy to assist the customer through the warranty process with the manufacturer. All defective products must be returned in the manufacturer's original package with all components (i.e. original package, software, drivers, cables, manuals, etc.) Polestar provides a 30-day warranty on any work. Polestar will replace defective hardware with the same or equivalent component. All warranty work will be performed at the Polestar store.